This page is a summary of our planning application which was approved by Birmingham City Council on January 21st 2021
The following are images and text taken from the planning docs to give you a sense of what we're building without having to work through technical information. But if that's your bag you can check the full documents on the planning website with the reference 2019/10502/PA.
The Design and Access Statement
This document runs through our plans in relatively plain English. You can think of it as the brochure for the development, explaining what we want to do and why we want to do it that way. It was written by the architect with lots of input from ourselves.
You can download it as a PDF here.
The Architectural Drawings
These are simplified renders of the building's size and shape.
---
---
---
---
Ground Floor
The ground floor houses the three worker co-operatives and four accessible flats. From the bottom left we have Artefact's gallery, cafe and community meeting spaces. They will also manage the hall which will be used by the whole building for co-op meetings and community events.
Next is Birmingham Bike Foundry's workshop and shop. They will also use a covered area in the courtyard and manage the bike storage shed.
On the right corner is Loaf's shop and bakery. Moving up the right side is Loaf's cookery school which will open to the courtyard where Loaf will manage a kitchen garden, pizza oven and other building assets.
In the top right are the four wheelchair-accessible flats. In the top left of the courtyard is the secure bike storage, bin store and communal tools storage
The remainder of the land is a courtyard-garden for use by all tenants (and customers of the businesses during the day) with a mix of lawn, trees, planters and patio for recreation and play. The exact mix will be decided by the first tranche of tenants.
First Floor
The first floor houses a range of 1 to 3 bedroom flats, a laundry and communal lounge and kitchen. Each flat is fully self-contained with its own bathroom and kitchen. The communal areas are to enable members to come together for larger meals and gatherings, should they wish, to foster community and combat loneliness.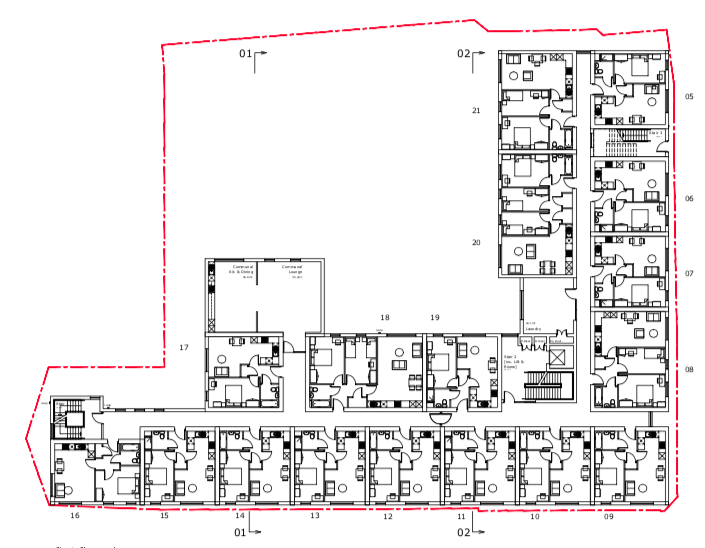 Second Floor
The second floor is entirely 1 to 3 bedroom flats with a laundry.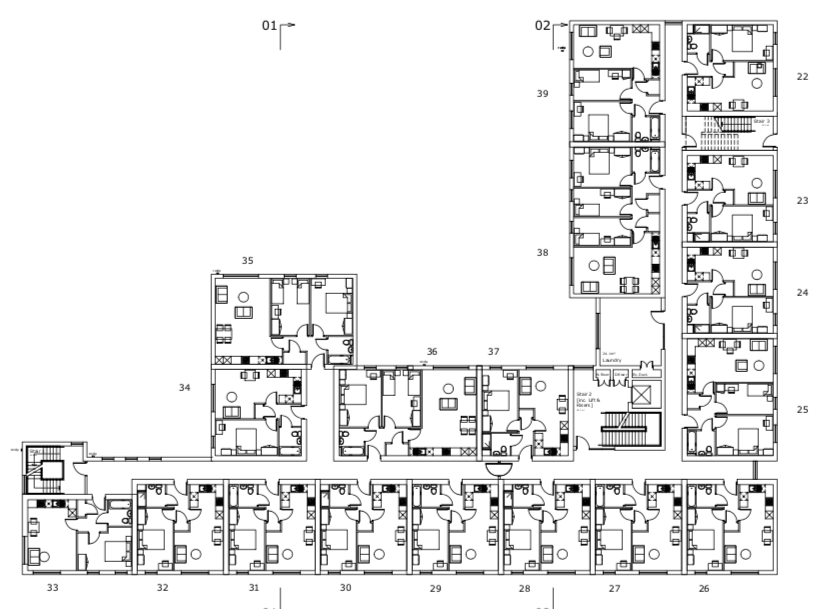 Roof
The roof houses a communal roof garden space along the Pershore Road and solar panels along Hunts Road. We plan to have a range of plants and flowers creating a pleasant recreational sun-trap. Members have expressed an interest in keeping bees on the roof, which would be apt given their iconographic status for co-ops!